Business and company owners need
reliable commercial vehicles
that meet the needs of the work they do. With increasingly busy schedules, they also need dealerships to assist them with maintenance and repairs for their work trucks and vans.
At Davis CDJR, we know what it takes to keep a business running, and we're committed to helping our commercial customers. In order to do so, we've established our
free BusinessLink program
to help business owners with their commercial vehicle needs every step of the way.
Rick Fergusson is your Business Link Consultant. Please contact him at rfergusson@davisauto.com with questions!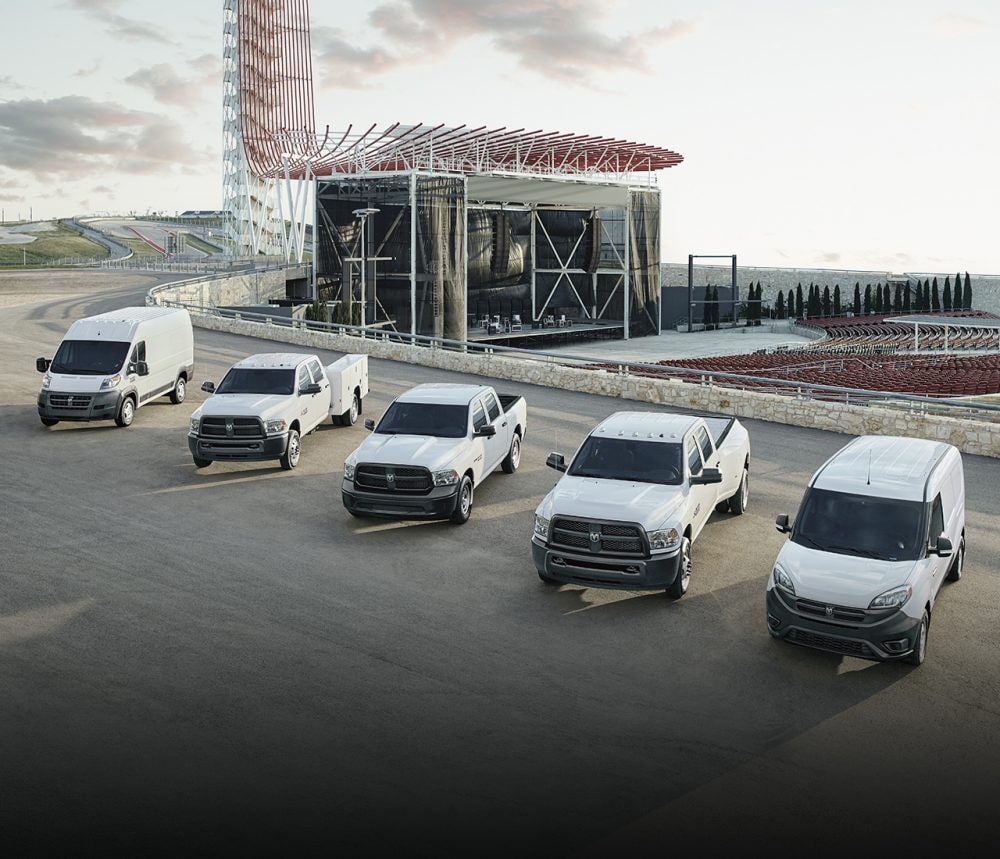 Dealer Services for Businesses & Commercial Vehicles
BusinessLink is a free program that connects business owners with a network of commercial vehicle dealerships. This program offers a wide range of benefits to owners of work trucks and vans.




To join BusinessLink, there are only four simple requirements:
You must provide a business or nonprofit tax ID number.
You must provide business incorporation documents.
You must provide the state, county, or municipal business certificate or business license number.
You must provide a federal or state income tax return showing the company operates as a business entity.
Learn more about the amazing benefits of BusinessLink below.
Fast Commercial Vehicle Service & Extended Service Hours
When you run a business, time is important. Every second your vehicle is down for maintenance or repairs could mean lost profits.




With BusinessLink, you're guaranteed Next-Bay Service, so your vehicle will receive the highest priority for service, maintenance, and repairs.




We also offer extended hours to accommodate the needs of today's businesses. Our

service department

will continue to work on your vehicle past normal business hour, so your work truck or cargo van will be ready as soon as possible.




We understand many business owners travel for work with their vehicles. Because Davis Dodge is part of the BusinessLink network, you never have to worry about finding a dealership who can service or repair your vehicle if something happens on the road. You can always contact us to locate your nearest BusinessLink service center.
Free Loaner Vehicles
Certain repairs are more intensive and may take longer than others. In this case, you may be without your vehicle for longer than expected while certain parts are ordered and being installed.




While your vehicle may be out of commission, we know that you can't afford to be. For business owners who buy their commercial vehicle through Davis Dodge or any other BusinessLink dealer, you'll receive a complimentary loaner vehicle while we work on your truck or van.
Dedicated Commercial Vehicle Account Manager
At Davis Dodge, we know having a dedicated account manager provides the best customer service for our commercial vehicle owners.




Once you sign up for BusinessLink, you'll have a single point of contact who will remember you and your business. Your account manager is here to help you with service, repair, and maintenance, and they can even keep an eye out for any new commercial vehicles, which suit your needs.
Other BusinessLink Benefits
BusinessLink has something for every type of business owner, which is why they offer so many different types of benefits.




Other BusinessLink benefits include:
Upfitter and Bailment Pool Connections
Service for all makes and models of commercial vehicles
Free Shuttle Service
Join BusinessLink Today
For companies that depend on their vehicles, BusinessLink is your safety net, and membership is free. Let Davis Dodge take care of your commercial vehicle needs.







Downloadable PDFs on BusinessLink: